Barry, Pierce and Warren Thank you so much and to your extended teams. It was great to spend the wk with you and you truly made our lives so much easier. I have no idea where you get your energy or endless patience from but I truly admire it! It was a great wk and as Simon and I head back from our US trip this evening we have heard only great things from many of the guys who were with us in Ireland the previous wk. Looking forward to doing it all again.... Laura



Laura Stephen Irish Distillers Pernod Ricard



Irish Distillers Ltd have now been working with the Irish Pro Golf Tours for the last seven years. IPGT have been pivotal to enhancing the success of the annual Jameson USA Partners & Friends trip to Ireland. The addition of IPGT in the planning and execution of these trips, has ultimately increased the demand for participation and improved share of mind for Jameson. Our clients always depart with a remarkable impression of Jameson and the island of Ireland and this is undoubtedly due to the professionalism and attention to detail shown by IPGT. We look forward to working in partnership with the IPGT team into the future which we know will ensure a level of excellence in the execution of our inward visits. Irish Distillers would highly recommend IPGT, as you can be assured of a responsible and professional approach, thus enhancing the emotional connection to your brand or company and ensuring your clients unforgettable and unique experience of their time in Ireland.



Simon FAY Irish Distillers Pernod Ricard



Dear Barry, I just wanted to drop you a line and say thanks so much for all you did over the past week. As ever it was truly superb with every attention to detail looked after. Having been on the other side of the fence this time it made me appreciate even more how good a team you have working with you. I know they are not an easy group but each of them to a man made a point of saying how impressed they were with the service and how well they were looked after. I also have to say Warren and Stuart were truly fantastic. They attended to everything in the most professional way possible. I'd be grateful if you could pass my appreciation and thanks to both of them. Kind Regards



Conor
Conor McQuaid Managing Director Pernod Ricard South Africa



Dear Barry, We haven't stopped talking about the fabulous time we had, being drive through this scenic route on the west coast and staying in some great B&Bs ....Glen Fia Country House in particular was very charming as were the owners.And the icing on the cake was having Warren as our driver cum guide..... He made our trip ever so enjoyable with his ready wit and humour plus we got to learn so much about Irish culture and customs and history from him along with first hand experience of Irish warmth and hospitality You had said I would thank you for Brennan after the trip and yes, we truly do in a HUGE way ..... This trip just wouldn't have been the same without Warren. Now you will need to ensure that every trip booked by Indian ladies with you has Warren cos he's a BIG Plus and an integral part of the tour :)..... Thank you ever so much Warren! it truly was a pleasure travelling with you .....thank you for your attentive courtesy and for making our trip so very special. We particularly loved those trips off the beaten track e.g., to the beautiful old church and monastery along the river in the Killarney area....cannot recall the name but the place was really magical With warm regards from Sunita and myself,



Anjum Nath India



Barry Thks again for everything, stewart was great we had an awesome time. C.S. USA Barry: Thanks so much for a wonderful day of golf. The company was the best part, getting to hang out with everyone was a real joy. Wish I played better but that's life. Please get untouched when coming to new York. Would love to take you out to Hampton Hills as my guest. Best



Gary



Good Morning…, We had such a great time and a large part was due to you and your team. John and I got home yesterday and Smokie and Tammie get home later today. Warren was wonderful as our tour guide and general entertainment. Learned so much about Ireland that we wouldn't have otherwise. He also took great care of the guys. We met many a fun Irishmen on our travels and had some good conversations with locals. I think John and Smokie would open an Irish pub in a heart beat. Please make sure you pass along our thanks to all involved. Cheers!



Gwyn



Barry - we made it back to the States safe and sound but I wanted to write and thank you for setting up such a wonderful trip... All of the lads loved our 4 days in N. Ireland and the Republic and all are already talking about our next trip... Both Warren and Joe were terrific and Warren made the entire trip run smooth as a top... Great to see you and please keep in touch and let me know if you're coming to the US - cheers,



Sean



Barry -- Thanks so much for the great trip. We loved the trip for many reasons ...... the golf courses were tremendous fun. County Down and Portrush were the clear favorites. The caddies at RCD and Portrush were the best. All of the courses were very service minded and welcomed our group without hesitation. The accommodations were excellent especially the Bushmills hotel. We loved the Mallahide location outside of Dublin. Great place for fun at night and lots of activity. The bus service was top notch. Justin was a hard working and safe driver. Warren was the ULTIMATE plus for the trip. He was resourceful, fun and extremely helpful. He made the trip a lot more fun with his accommodating spirit. Have a great day.



--- Scott



Barry, can't thank you enough for just a fantastic trip again. Had a great time. You were so gracious to step in for Joe, way beyond anything imaginable. My only goal for the next trip is to have a higher handicap, which is coming and a better game, which may not. Very nice to meet you and looking forward already to the next one. Take care,



Dick



Warren, Again - a great trip! Thank you. You are a decent man!!



Tom McGough


Enda,
I wanted to drop you a quick line to say thank you for putting together our recent golf trip to Ireland.
The trip was very definitely the best and most organized golf trip we have ever been on. Your recommendations and selection of courses, hotels and transportation were all outstanding. The group will have lasting memories of a great Irish golf experience. Please pass along special thanks to Barry and Seamus for their contributions to the trip.
Warm regards,
Todd Harman,
Vice President of Product Marketing
Cleveland Golf - Huntington Beach, CA USA                                             
More testimonials......click here




If your going to Ireland you want to have the careful attention to detail that Enda and his team insure……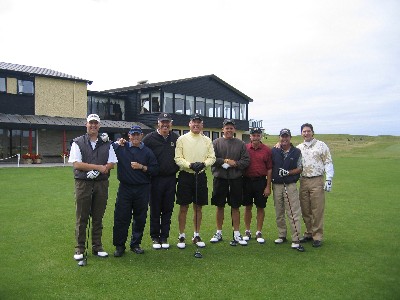 Our trip was fantastic largely due to the planning and many suggestions by Irish Pro Golf Tours, from the caddies to Pubs to transportation and accommodations it was all first rate from beginning to end.
Golf in Ireland is worth every Euro and you wont find nicer people in any country…….
Southern Ireland is the golf mecca! Lahinch, Old Head, Ballybunion, Doonbeg , Waterville and Tralee all represent links golf at it's very best.

Bill Geppert - San Diego, CA
More testimonials......click here




Enda,
Hope all is well.
The guys truly enjoyed the trip and I am sure you will get many referrals as a result of the great job you and Barry did on our trip once again.
Once we start planning for next year, I will let you know.
Stay well and in touch.
Phill Ashkettle - Naples, FL
More testimonials......click here

Enda & Barry,
What a spectacular trip you guys arranged for us in Ireland.
 As I arrived in Shannon somewhat disgruntled with my clubs and baggage having missed my flight from Chicago, I had no idea how accommodating two Irish lads could be.
Kid glove treatment took on a new meaning when you guys fixed me up with the perfect set of clubs with rain gear and we took on mighty Ballybunion with frightening winds and rain.
We had the pleasure of experiencing the perfect Irish golf vacation; the daunting weather at Ballybunion; the calm tranquillity on our last day at Old Head; and four superb courses in between.
Great accommodations, our private coach and tour guide, the scenic helicopter transfer and your wonderful hospitality made our visit the trip of a lifetime.
Thanks for the memories.
Ron Emery - Jackson, MS
More testimonials......click here



Enda my friend,
We had the best week of our lives. So much so we are planning the same trip in September of 2007.
We would consider no other company and we will also be requesting Mr George Desmond (tour driver extraordinaire).
Thanks from all of us.
Barry Ling - PEI, Canada
 
More testimonials......click here


To golfers everywhere:
This July (2004), my 2 sons and I took our long awaited golf trip to Ireland. As we sit now before an early winter's fire.. not a blazing turf fire like the one that warmed us after a hard round at Doonbeg, but a good fire nonetheless...we are reflecting and toasting our good times and good friends...The Irish motto of "One Hundred Thousand Welcomes" needs to be amended with "One Hundred Thousand Memories"..
From the rustic test of Gaelic Carne, the "wicked hard" first class Doonbeg, to the living history of Ballybunion and our favourite, Lahinch, we truly had the time of our lives.
All details were taken care of by experts professionals..... From the door - to - door transport, to the side trips to see the "real Ireland", no detail was too small to fret over, no request too large to ignore. The service was not that of hired help, but the true pleasures of sharing adventures with a new friend... We met the most interesting people, fellow golfers who both knew and respected Enda and Barry, opening up many otherwise closed doors.
We played on some of the world's hardest, yet most breathtakingly beautiful courses, walking on the same ground as the greats of the game. We met a man in Tubridy's of Doonbeg Pub, who "deserved to be respected", part of a new tag line for the boys, and a lifetime of memories for us all... As we pour another glass of Middleton's - another benefit of the trip - and offer up another in a long series of toasts, we say to our friends Enda and Barry..
"Here's to you , lads. A job well done....
John, Brian and Michael Hopkins - Alton, IL

More testimonials......click here

Enda,
 
Having played a lot of golf in both Ireland and Scotland, as well as having other tours done, I can say without hesitation that you and Barry did the most outstanding job I have seen.
We are now getting settled in for more golf in the Carolina mountains before returning to Florida in September. I will finalize the Northern Ireland deal in the next few weeks. Thanks again for a wonderful experience.

Phill Ashkettle - Naples, FL
More testimonials......click here

Hi Enda:
I am feeling more like I am in the "land of the living" today. It always takes a couple of days to get your body clock back on track.

We had a wonderful time in Ireland. I can honestly say that I have never seen a more beautiful country. It is truly the Emerald Isle. The golf courses were spectacular – everything and more than what we anticipated. The people were all so friendly and the accommodations were great. We are sorry that we had to miss the experience of Dromoland Castle, however, as you have pointed out, this will give us a reason for returning.
What course stood out from all the rest? Our answer would be "Old Head at Kinsale". This course is so magnificent. We hired a senior caddy while we were there and he was fantastic – Gerry was his name. He made the experience even more memorable.
All of the courses were wonderful – each had it's own unique feature.
We loved the way that you had arranged the courses and tee times so that when we were finished playing a course, we still had time to do some sightseeing.
We did the Ring of Kerry after playing Waterville (having driven half of it to get to the course, we drove the other way home) and we did the Dingle Peninsula after playing Dooks. We even did the pass – what an experience that was, and the views were well worth the drive to the top.

I have also been talking to the Devil's Pulpit this morning, and have said that anyone wanting to go to Ireland should go through you people.

You did a great job in arranging everything so that we could have such a wonderful holiday.
The maps that you had provided where invaluable and the accommodations were great. We even learned to drive on the left-hand side of the road without having any accidents. Thank you so much!!!!!!

Barbara & Larry Karasiuk - CANADA
 
More testimonials......click here